College of Science and Mathematics
CENTERS AND PROGRAMS
Centers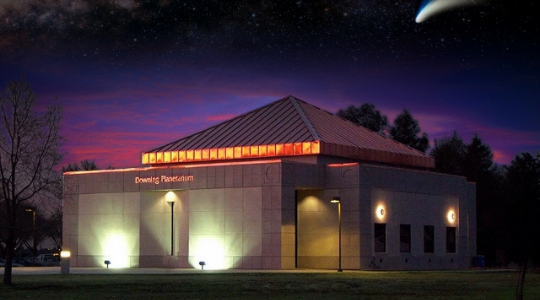 Downing Planetarium
The Downing Planetarium, housed at the College of Science and Mathematics at Fresno State features the state of the art immersive technology in digital planetarium software, projection and sound. We are committed to empowering our students and the public with our wide variety of shows on space and other subjects. Our planetarium also has a museum and gift shop.
Visit the Downing Planetarium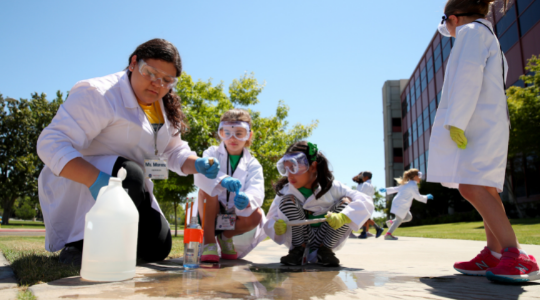 STEM Center
The STEM Education Center is a collaborative group of faculty, graduate students, and undergraduates doing research, teaching, and service to support outcomes driven K-16+ STEM Literacy. This collaborative serves as an umbrella under which educational researchers from different departments work together that include Biology Chemistry, Mathematics, and Liberal Studies. The goal of the center is to enhance STEM Education in the Central Valley and beyond.
STEM Center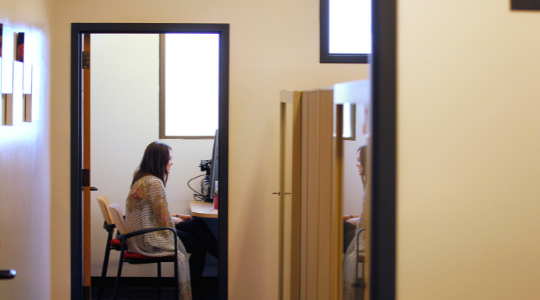 Advising and Resources Center
The center provides students at the College of Science and Mathematics with multiple tools and resources to succeed in their college journey and beyond. At the center you can receive academic advising, pre-professional advising, research and internship advising, career exploration, resume assistance, career development services and information on student organizations, clubs, and professional programs. Students are encouraged to visit at least once a semester.
Advising and Resource Center
Programs
The Applied Behavior Analysis (ABA) graduate program at Fresno State provides students with the academic coursework, research experience, and supervised field experience. The Association for Behavior Analysis International has verified the courses listed below toward the coursework requirements for eligibility to take the Board Certified Behavior Analyst® or Board Certified Assistant Behavior Analyst® examination.
The Biology Honors Program will provide motivated upper-division students with the opportunity to explore biology through enhanced educational study and engagement with their intellectual peers.
Biology Honors Program webssite
Biomedical physics (also known as medical physics) is a branch of physics concerned with the application of physics principles, theories, and experimental methods into the modern practice and research of medicine. The main goal of the program was to prepare our graduates to enter into the very competitive graduate programs (MS or PhD) in medical physics.
The Master's in Biotechnology Program is a Professional Science Master's Program, approved by the Council of Graduate Schools. This application focused graduate program is designed to train students in biotechnology. We are preparing the next generation of leaders in biotechnology.
Biotechnology Master's Program website
The College of Science and Mathematics Building Opportunities through Networks of Discovery (BOND program) is designed to help you make the most of your first year at Fresno State. As part of the BOND program you will build connections with students, faculty, and advisors and engage in real world experiences designed to prepare you for success at Fresno State and beyond.
BOND Program website
The Bridges to Doctorate Program aims to enhance the participation of students from underrepresented groups in Ph.D. programs in the biomedical and behavioral natural sciences. To achieve this, the Bridge Program provides intensive research, coursework, and mentoring experiences.
Bridges to Doctorate Program website
The Chemistry Honors program is a 10-unit program completed in the last four or five semesters of a student's undergraduate degree program. In addition to four honors courses, students are required to complete an independent research project resulting in an undergraduate thesis, complete a peer-instruction service requirement, and present their research at a scientific conference appropriate to their field.
Chemistry Honors Program website
Course Based Undergraduate Research Experiences (CUREs) embeds the research experience into the curriculum to effectively train, increase and retain the number of STEM majors