Biotechnology Program
The Master's in Biotechnology Program is a two-year master's program administered by the Department of Biology in the College of Science and Mathematics and is an approved Professional Science Master's program. The program allows students to explore cutting-edge molecular and cellular life processes. California State University, Fresno offers numerous courses and opportunities in such areas as crop and livestock improvements, food and bioprocessing, medical diagnostics, forensic identification, and bioinformatics, in the context of entrepreneurship and commercialization.We are preparing the next generation of leaders in biotechnology.
Our graduates are:
Interdisciplinary scientists. Students receive advanced training at the cutting-edge interfaces of science and technology.
Excellent communicators. Students receive "science-plus" training in business management, writing, and presentation skills. This prepares graduates to serve as the liaison between corporate research groups and business administration, or to handle the jobs in either group.
Innovative problem-solvers. Research and Internship opportunities train students to address challenges and opportunities in the real world.
To learn more about our application process visit our student handbook.
---
Unique to the Biotechnology Program
Biotechnology is a multidisciplinary endeavor that increasingly requires employees fluent in both science and business to enable the development of new technologies and products based on the unique applications of the cellular and molecular life sciences. The Master's Degree in Biotechnology at the California State University, Fresno offers students, who are fundamentally educated in various scientific disciplines, the opportunities to acquire the knowledge and skills required to comprehend and commercialize these emerging technologies and/or their products.
As an approved Professional Science Master's program it is designed to follow the Sloan Foundation model of one third business and two thirds science courses. All students entering the program are required to take a core of courses (21 units), participate in an internship experience and complete a research project or thesis.
This Master's Degree in Biotechnology is designed as a terminal graduate degree. This program is not recommended for students interested in continuing their graduate education in research doctoral programs.
This two-year master's program is designed to provide students with an understanding of the breadth of biotechnology's commercial potential and with a working knowledge of all components of a business enterprise in order to prepare graduates for leadership roles in the biotechnology industry.
As a leading university in the Central Valley, California State University, Fresno will lead the way for new and innovative applications of biotechnology both in the state and throughout the nation.
The program is highly interdisciplinary and involves faculty from Biology, Chemistry, Mathematics, Animal Sciences and Agricultural Education, Food Sciences and Nutrition, Industrial Technology, Plant Sciences, Viticulture and Enology, the Craig School of Business, and Computer Science.
We are interacting with the major industry of Central California to develop a highly qualified workforce to address industry needs.
Types of industries and research activities include:

Agricultural Biotechnology: Our location in the rich and highly productive Central Valley of California is ideal for an agricultural biotechnology program; some of the current activities include:

Agricultural waste solutions
Evaluation of BT cotton\
Enhancement of wine production
Development of pesticide resistant transgenic plants
Metagenomic studies in agricultural soils
Hormonal controls to enhance fish cultivation

Medical/Medical Diagnostics: Fresno is a medical center for the Central Valley of California, some of the current activities include:

Biology of cancer progression/metastasis
Molecular diagnostics for children
Molecular Pathogenesis in Mycobacterium
Homeostasis in neurodegenerative diseases

Environmental: Fresno is close to three National Parks, two National Forests, and a wide diversity of ecological niches; some of the current activities include:

Production of biofuels
Control of invasive species
Examination of the environmental fate of pesticides
Development of biocontrol agents/products
Bioremediation
Business/Regulatory Affairs/Quality Control: current activities include:Assessment of international biotechnology business trends and opportunities
Regulation/quality control in the food packaging and wine industries
Forensic Biotechnology
Other - Student's who are interested, go outside the Central California Valley to intern at major pharmaceutical or biotechnological companies.
---
Contact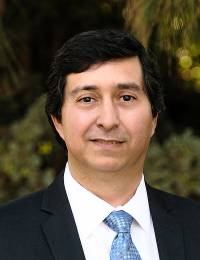 Alejandro Calderon-Urrea (Graduate Coordinator)
Office: Science 1 #10A
Phone: 559. 278.4080
Fax: 559.278.3963
Email: calalea@csufresno.edu