The Downing Planetarium
The Downing Planetarium offers a 74-seat star theater with a 30-foot hemispherical dome. The planetarium features a Minolta MS-10 star projector and can fill the entire dome with a movie. We have public programs one weekend per month on Friday evenings and Saturday afternoons. The planetarium is also available for school field trips and private shows, by appointment.
Shows and Reservations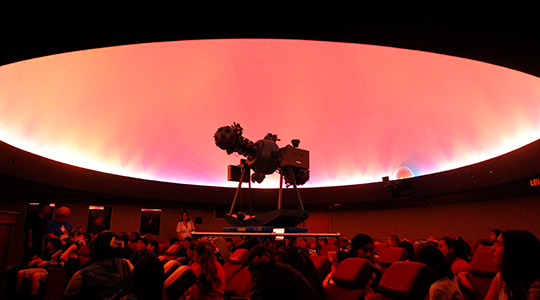 Reservations
Our weekend shows tends to sell out. Reservations are strongly recommended.
Make Reservations
---
About Us
---
Contact Us
Location:
5320 N Maple Ave
Fresno, CA 93710
(We are located at the corner of San Ramon and Maple, just south of Barstow Avenue. We are next to the Science II Building.)
Phone: 559.278.4071
Email: kharriso@csufresno.edu
Parking
General Public
Visitors to the Downing Planetarium can find parking in lot P15. A permit is required during normal university hours. A parking permit is not required during public shows as they are during the weekend. For more info on parking enforcement visit the university parking enforcement web page.
Bus Parking
Buses bringing students to the Downing Planetarium can drop students off near parking lot P15 as shown in the image below.
Bus parking is allowed in Parking Lot P11. Lot P11 is a gravel parking lot, on the north side of Barstow Ave, east of Woodrow Ave ( east of the Animal Science Pavilion). For more info on school bus parking click here.
---
Social Media
Stay up to date with us and follow us on Facebook.