Department of Chemistry and Biochemistry
Graduate Study in Chemistry
The Master of Science degree program in Chemistry is designed for students with a broad array of career goals. From students who wish to prepare for entry into a doctoral program or professional school. To students planning on a career in the private sector or at a state/federal laboratory. We also prepare students who are interested in teaching at the community college level. Our program offers a unique combination of high quality, innovative research opportunities and exceptional mentoring by our faculty.
---
Unique to our Program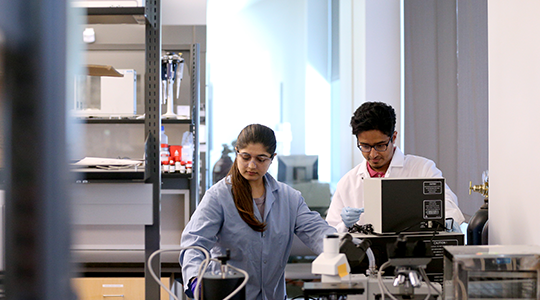 Thesis Research
As part of the M.S. degree, students work with a faculty member to identify and undertake an independent research project.
Learn More about Thesis Research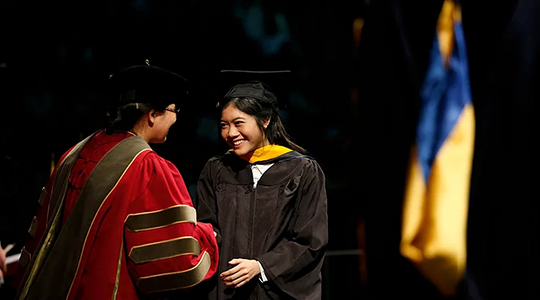 Program of Study
The Chemistry department offers a Master of Science degree program for qualified students. It requires a total of 30 units for graduation.
Learn More about the Masters of Science
---
Who Should Apply?
The MS Chemistry degree program is designed for students interested in any area of Chemistry or Biochemistry. We welcome both returning and continuing students, and we are often able to accommodate working students.
To be eligible for admission to the MS Chemistry program, you must have the equivalent of a Bachelors degree in Chemistry or a closely related field with a GPA of 2.5 or better from a four-year College. International students are encouraged to contact the International Student Services and Programs Office to determine eligibility.
Important Dates:
Fall admission - June 1st Spring admission - November 1st
Apply (Deadline: Fall: June 1, Spring November 1)
Learn More: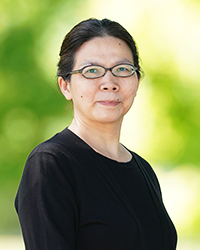 Qiao-Hong Chen, Ph.D. (Graduate Coordinator)
Professor
Office Location: Science 1, Room 346
Office Phone: 559.278.2394
E-mail: qchen@csufresno.edu
Website: Chen Research Group
---
Prerequisites
Before being fully admitted to the MS Chemistry program, each student must demonstrate competency in the following four areas of Chemistry:
Physical Chemistry
Organic Chemistry
Analytical Chemistry
Biochemistry OR Inorganic Chemistry

Sudents who obtained an A or B in the appropriate courses at Fresno State (CHEM 110A for Physical Chemistry; CHEM 128A for Organic Chemistry; CHEM 106 for Analytical Chemistry; CHEM 155 for Biochemistry; CHEM 123 for Inorganic Chemistry) in the 2 years prior to admission to the graduate program are considered to have satisfied the admission requirements in these areas. Equivalent courses taken at other institutions may be acceptable provided that they were completed in the two years prior to admission to the graduate program.
Students who do not satisfy some or all of the prerequisites in this way must EITHER:
Pass the Diagnostic Placement Exam in the appropriate area(s). The department uses American Chemical Society tests for these exams.
OR
Pass the corresponding undergraduate course(s) with a B or better.
Students may be conditionally admitted to the program prior to satisfying the pre-requisites. However, all students must meet these requirements in order to graduate.
How to Apply
All applicants must take the General Graduate Record Examination (GRE). (You are not required to take the Chemistry Subject GRE for admission to the MS Chemistry program).
To Graduate Admissions Office, 5150 North Maple, JA 57, Fresno, CA 93740-8026.
Send to Graduate Coordinator, Dept. of Chemistry, 2555 E. San Ramon Avenue, MS SB/70, Fresno, CA93740-8034.
Or Letter writers can also email the letters directly to the Program Coordinator.
There are additional application requirements for overseas students. An overview of the process is provided below. All international applicants must consult with the International Student Services and Programs Office for current requirements and procedures.
Information for International Applicants*
*Please note: The information provided here is intended to provide an overview of the application process only. International applicants must consult the International Student Services and Programs (ISSP) Office for current requirements and procedures.
International applicants can apply online using the Cal State Apply Web site.
All applicants must take the General Graduate Record Examination (General GRE).
All the candidates must demonstrate competency in English EITHER with a score of 80 or higher on

iBT

TOEFL Exam (1) OR 6.5 Overall Band Score on IELTS. Students may be conditionally admitted before completing this requirement.

No exceptions
Official transcripts, diplomas, certificates, and mark sheets of all academic work completed in both your native language and in English must be submitted.

Only original documents or certified true copies that are certified by the issuing school are acceptable.

If you submit certified true copies, original documents must be presented upon arrival to California State University, Fresno. Notarized documents are not accepted.
A copy of your passport photo/information page must be submitted.
A financial statement demonstrating sufficient funds to cover your graduate studies is required.

This should be a bank letter/statement showing the amount and source of support. If your sponsor is a government agency, organization, or

another group

, you must attach a separate letter from your sponsor that includes the terms of the sponsorship (in English).
After being admitted to the university, ISSP will issue you with an I-20 form. This will enable you to apply for a student F-1 visa through a US Embassy/Consulate in your home country.

Please note that this process can take some time and requires an interview at the issuing US Embassy/Consulate.
---
Current Students