Why TNT is hot — tunneling nanotube, that is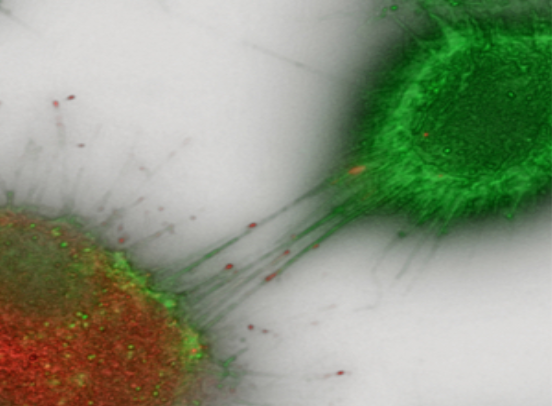 Dr. Karine Gousset, associate professor of virology in the Department of Biology at Fresno State, was recently awarded an approximately $1.3 million grant from the National Institute of Health for her work on tunneling nanotubes. It was an NIH SCORE 1 (SC1) grant, which she was told was very difficult to get.
"Everybody was saying no one has ever gotten an SC1 grant, it's not possible," she said. "But I am not one to be discouraged, and I don't mind rejection. Plus, I thought our proposal was excellent and there's always a first. The same thing happened when I first came to Fresno State. I turned in an NIH SCORE 2 (SC2) grant my first semester. Many advised me to wait… I didn't and was awarded my first NIH SC2 grant, which paved the way to this SC1 award."

As it turns out, she was right to reach for the impossible: she received an outstanding score and her grant is set to start on February 1.

Tunneling nanotubes, Dr. Gousset explained, are a novel mechanism of functional connectivity between cells. They form bridges or "nanotubes" between cells and they have been shown to play a role in the spreading of viruses, misfolded protein aggregates, and cancer.

"What we've been doing in my lab is to study the composition, mechanisms of formation and function of TNTs," she said. "A lot of times, viruses will use these 'tunnels' to spread from one cell to another, blocking the ability of our immune system to recognize the existence of this threat or to form a defense for it."

What are TNTs worth? A lot. Why are they important? They could be the key to fighting three major health problems plaguing modern society: persistent viral infections, cancer and neurological diseases.

"We're the only ones in the world who have actually been able to isolate this kind of cellular protrusion for downstream proteomic analysis," Dr. Gousset said. "It's quite incredible when you think that we are not in a research institution, but a teaching institution."

Dr. Gousset's method is to fix the cells and isolate just the projections she wants to study using Laser Capture Microdissection, a specialized microscope that uses a laser to "cut" and isolate TNTs. Her novel method of fixation allows her to perform proteomic analyses without the protein loss and degradation that is typical with standard fixation methods.

No matter how much skepticism she faced, Dr. Gousset knew it could be done. She demonstrated the validity of this approach with her previous SC2 grant, which created a lot of excitement and recognition in her scientific field. Now this new grant will allow her to expand her research.
"We are thrilled that Dr. Gousset received this highly competitive award for her innovative research, which could have a transformative impact in the study of disease," said Dr. James E. Marshall, Dean of the Division of Research and Graduate Studies. "This significant grant builds on her past success and could lead to major advancements in understanding viruses, cancer and neurological diseases. The grant also maintains the great momentum gathered as a campus last year, when Fresno State received 347 grants or contracts for a total of $46.7 million. We applaud Dr. Gousset for her momentous accomplishment and look forward to continuing to support her efforts."
While it's true that COVID has slowed down some of her research in the lab, Dr. Gousset remains certain that she will be able to accomplish some exciting things.

"With this new grant, we're going to continue to isolate these protrusions using different cell types and inducers and analyze their protein content," she said. "Also, I have a collaboration with Dr. Erin Nishimura, an expert in low-input RNA sequencing and analysis at Colorado State. Together, we plan to go one step further and analyze the RNA [ribonucleic acid] found in TNTs. So we're going to look at proteins and RNA. We're really pushing technological limits to analyze these microscopic structures."

Almost all cells seem to be producing these types of protrusions [TNTs], she noted, but scientists aren't sure if they are all the same. In theory, on the molecular level, there could be ways to inhibit or induce the formation of TNTs using small molecules that would target key steps during their mechanism of formation.

"If we could control TNT formation, we could use drugs that either stop them, as in the case of viruses or cancer that use TNT to spread," she said. "But in other cases, inducing TNT formation could allow cells to help one another when they are distressed. For example, TNTs mediate the transfer of mitochondria from healthy cells to distressed cells during apoptotic stress, reversing damage. In this case, it would be good to have more of these tubes being formed."

The new four-year NIH SC1 grant will allow Dr. Gousset to study not only neuronal cells, but also macrophages, which are part of the immune system. For future applications, some of her students are working on how to increase or block TNTs.

"They are very beautiful structures," she said.

Dr. Gousset earned her Ph.D. in 2002 at the University of California, Davis in the laboratories of Drs. Fern Tablin and John Crowe. She then worked at Johns Hopkins and NIH. In 2007, she was awarded a three-year Pasteur Foundation Fellowship to join the Pasteur Institute in Paris, France and worked as a Research Scientist there for an additional three years. In 2013 she joined California State University, Fresno.