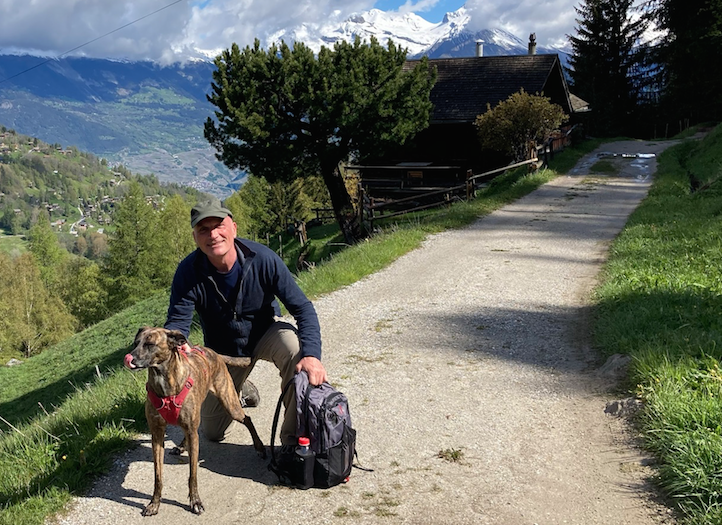 Dr. Steve Blumenshine with dog, Rija, near the Alps.
Dr. Steve Blumenshine engages in research with German collaborators through Fulbright
Fresno State biology professor Dr. Steve Blumenshine knows the power of a Fulbright scholarship. He recently returned from Germany, where he was participating in EU-funded multicountry lake ecosystem research through a Fulbright U.S. Scholar Program award.
The award was for March-May 2021 from the U.S. Department of State and the Fulbright Foreign Scholarship Board.
Dr. Blumenshine's work isn't what you might typically expect from someone in academia. He's not just running a lab section or conducting courses — he's participating in global partnerships, finding out how his research can be applied. "It's just life changing," he said. "It's almost like you walk into some catering kitchen, and you're asked to make a meal, and you've never been in that kitchen before. You've got to try to figure out what kind of dinner to make out of the ingredients at hand."
Dr. Blumenshine's research was at Lake Constance in southwest Germany, as part of an interdisciplinary collaboration, the SeeWandel Project. SeeWandel is a multi-million Euro project examining pressing environmental impacts with 15 lead scientists in institutions, government and academia.
Lake Constance, the largest source of drinking water in Europe, is located on the Rhine River where Germany, Switzerland, and Austria meet at the northern foot of the Alps.
"Lake Constance is important historically to fishery and tourism. It is important economically, and as a natural resource, including as a source of drinking water," Dr. Blumenshine said. "The lake has undergone some drastic changes. They cleaned up some of the pollution and nutrients that were going in the lake that were causing a problem, but now there are problems with climate change and invasive species."
The German states of Baden-Württemberg and Bavaria, the Swiss cantons of St. Gallen, Thurgau, and Schaffhausen, and the Austrian state of Vorarlberg are facing environmental threats to this important freshwater ecosystem.
And Dr. Blumenshine had analytical approaches to address themissing pieces of the puzzle they needed.
"Some of the things I do with fish and fresh water, things I developed or learned throughout my career, were applicable to some of the issues they were studying," he said. "Once I got there, I found that some of the approaches that I use, typically, fit in well to address their research gaps. They were really eye-opening to us."
With his expertise in aquatic food webs, Dr. Blumenshine was prepared to contribute to possible resolutions for issues facing Lake Constance, such as threats to fish species.
"The main fish species harvested and culturally important there is European whitefish," Dr. Blumenshine said.
Relating how the threat to whitefish can impact average people demonstrates the importance of his work.
"I like to tell relatable stories, to show how this is a valuable resource, like lobster from Maine, so people can understand," he said.
As with his other international experiences, Dr. Blumenshine shares what he learned with his students, who are often keen to hear stories from research opportunities in exotic places.
He has participated in other international research projects, and recommends the CSU's international programs through the University of Tübingen and a number of other institutions of higher education in the Federal state of Baden-Württemberg. The CSU system and the state of CA have formal partnerships with Baden-Württemberg.
Dr. Blumenshine's family is originally from that area: Wilhelm Blumenschein, emigrated from Baden-Württemberg in 1830, as did the ancestors of his paternal grandmother
"The Fulbright is not just about the project you're working on, but who you are as well," he said. "I have a copy of the letter that Wilhelm Blumenschein sent to relatives once he arrived in America and figured out where to go, and I have the family history from there from the early 1600s."
Dr. Blumenshine encourages faculty and students to look into Fulbright opportunities. On his recent work in Germany with collaborators , they have a paper in revision and others that he is directly working on. He is also interested in future collaborations.
"It's in the spirit of Fulbright and sabbaticals to exchange ideas — research, teaching, curriculum — with people in other countries," he said. "Fulbright is an incredibly well-organized institution. It's for cultural exchange across every discipline you can imagine. Get involved in Fulbright, and open your world."