Alumni Feature
Connections as a student led to her future as a professional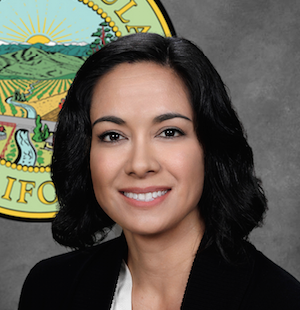 Training from the Department of Biology at Fresno State helped alumna Denise Lopez transition to the professional world — it had a tremendous impact on her career.
"University faculty connected me to a new training opportunity during my second year of graduate study," she said. "As a result, I was hired on as a Public Health Microbiologist Trainee at the Tulare County Public Health Laboratory in 2006 and obtained my state certification as a Public Health Microbiologist in 2007. I was promoted to Public Health Laboratory Manager in 2011."
Denise was born in southern California and grew up in Visalia, Calif. After graduating from Redwood High School, she attended the College of the Sequoias (COS), where she discovered her passion for science and decided to pursue her B.S. in Biology at Fresno State.
"The Fresno State Biology Department staff was incredibly supportive and I had the opportunity to work with faculty directly every day," she said.
Denise said that in the Department of Biology at Fresno State, high priority was given toward facilitating new opportunities for students, such as learning new scientific techniques, conducting research, traveling to regional and national conferences to present research, and competing for scholarships and grants.
"These experiences directly contributed to my success as I transitioned from a student into a professional," she said.
After her B.S. was completed, Denise went on to enter the biology graduate program at Fresno State. Experience in Fresno State's Biology graduate program played a crucial role in her future.
She was awarded the Greater Research Opportunities Fellowship through the U.S. Environmental Protection Agency which fully supported her two years of graduate study.
"My experiences at Fresno State are still incredibly valuable as I continue to draw and build upon them as I progress in my career," she said.
The work that she does now embodies what she enjoyed most during her time in the Fresno State Biology program, Denise noted. She applies new technology and skills to tackle important challenges.
"My time in the biology graduate program taught me the value of being resourceful, independently motivated, and collaborative," she said. "It has been instrumental to my ability to make a positive impact in my community."
Her job has had a transformative effect on public health in the Valley.
"Over the last decade, our public health laboratory has become a center for technology, training, and reference-level laboratory services for the entire southern San Joaquin Valley," she said. "Our laboratory was one of the first laboratories in the country to test for SARS-CoV-2 and currently performs testing in support of outbreak investigations and genomic sequencing for public health surveillance. "
Denise is currently the manager of the Tulare County Public Health Laboratory. She is completing her doctorate, which will allow her to become a CLIA Laboratory Director.