Alumni Feature
Chantale L. Johnson
Current Title and Position: Assistant Laboratory Manager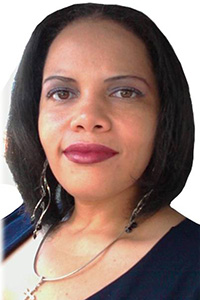 Institution: Food Safety Net Services – Grand Prairie, TX
Education:
2008 – MS, Biology, California State University, Fresno
2003 – BS, Biology, Xavier University of Louisiana
Biography:
Growing up in Fresno, CA, I have always known that I wanted to pursue a career in the science industry. This desire was immensely strengthened during my attendance at Bullard High School in Thomas Atkins' Physiology and Anatomy class. I went on to complete my undergraduate coursework at Xavier University of Louisiana and my graduate coursework at California State University, Fresno. At CSU, Fresno, I began to develop a stronger desire to work specifically within the field of microbiology.
I was first introduced to the food science industry at a CSU Career Fair. Soon after, I began working as a technician in a food science laboratory where I helped to conduct testing to identify the presence/absence of E. coli O157:H7, Listeria spp., Salmonella spp. and additional potentially harmful microbes in food products before they could be released to the consumers for consumption. Since then, I have transferred to Food Safety Net Services (FSNS), where I began four years ago as a Laboratory Technologist and since have been promoted several times to now serve as the Assistant Laboratory Manager for FSNS in Dallas, TX.
FSNS is a network of accredited laboratories, equipped with state-of-the-art instruments, to meet our clients' testing needs while staying open 24/7, year round. Daily testing includes, quantitative and qualitative analysis following standardized and validated methods such as Association of Analytical Communities, United States Department of Agriculture, Food and Drug Administration, as well as others. My role is to assist in the supervision of forty five plus personnel during daily laboratory operations with emphasis on microbiological and chemical techniques, including processes, quality control, reporting, and interpretation of results.
What role attending Fresno State's Biology graduate program played in your career?
I've had a number of experiences that have served as catalysts in my desire to work in the science industry but the most impactful was the time that I spent in the graduate program at California State University, Fresno. While conducting graduate research, I was able to take part in innovative research that helped to develop my solid intellectual and cognitive abilities, as well as the sequential analytical skills that allow me to better see cause and effect relationships. These are now essential elements of my daily responsibilities as certain decisions that I make have a direct impact on public safety.
While at CSU, Fresno, I was able to develop a healthier respect for conducting quality work with a sense of urgency. It is important to be achievement-oriented while also remaining rational and logical in approaching problems and decisions. The faculty at CSU, Fresno was very supportive and challenged me to be a better scientist. Dr. Rawat, my thesis advisor, dedicated a significant amount of time and effort to ensure that I developed while working in her laboratory and it is because of the dedication and hard work displayed in Dr. Rawat's lab that I have grown to love science even more.
In the graduate program at CSU, Fresno, I was also afforded the opportunity to be a teaching associate within the biology department as well as present research at several symposiums. Through these opportunities, my ability to modify instruction to accommodate those who learn differently was strengthened. This is a skill that I am able to utilize even today in performing personnel laboratory training, reviews, and creating personal growth plans.
I have always believed that commitment is what transforms a person's potential into a reality. Attending California State University, Fresno provided me with the support, guidance, and opportunities to learn and grow within the science field. My commitment to the graduate program at CSU, Fresno, and all that the program offered, instilled in me essential components that have propelled me to where I am in my career today.