Alumni Feature
One open door leads to success for biology alumnus Carlos Tristan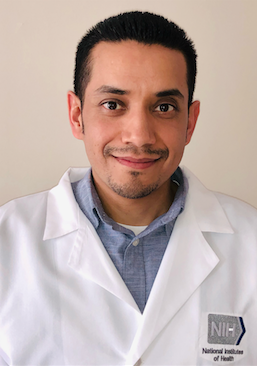 By simply opening the door to his lab, Dr. Calderón-Urrea started a chain reaction that opened many doors throughout Carlos Tristan's career. Carlos went from growing up in Compton, California, to attending the number one medical school in the U.S., to now working as a staff scientist at one of the most advanced stem cell laboratories in the country.
While looking for universities to attend, reality set in and Carlos realized he needed to find a school with a good biology program that was affordable.
"I always knew I wanted to pursue a career in the sciences and/or medical field," he said. "Fresno State was a great match, and the fall after my high school graduation I started at Fresno State as a biology major."
The decision proved to be a wise one. Carlos is currently a staff scientist in the Stem Cell Translational Laboratory (SCTL) at the National Center for Advancing Translational Sciences of the National Institutes of Health.
"The SCTL is a new state-of-the-art research facility dedicated to addressing the scientific and technological challenges in the induced pluripotent stem cell (iPSC) field," he said. "At the SCTL, we work on bringing induced pluripotent stem cell (iPSC) technologies closer to clinical application, drug discovery and regenerative medicine."
The faculty and staff in the Biology Department at Fresno State really care about their students, Carlos said, and are willing to support their students to a successful career.
"Dr. Calderón-Urrea was the most influential mentor, advisor and professor I had at Fresno State," he said. "After I briefly expressed my interest in research after class one day, Dr. Calderón-Urrea invited me to stop by his lab to discuss what his lab was working on. His love for science and research really inspired me to explore my interest further, and I soon joined his lab as an undergraduate and continued on to completing a master's."
After completing a master's degree, Carlos was accepted into the Cellular and Molecular Medicine Program at Johns Hopkins School of Medicine.
"Never in my wildest dreams would I have imagined getting into that caliber of a school, but Dr. Calderón-Urrea made me believe and helped make that happen," he said.
Carlos attributes his success to the opportunities that many at Fresno State provided, his passion for science, and his drive to succeed.
"In my case, I provided the drive and the Department of Biology at Fresno State truly provided the support and opportunities that set me in the path to accomplish my dreams," he said.