Alumni Feature
One pivotal decision made the difference for biology alumnus, Brian J. O'Roak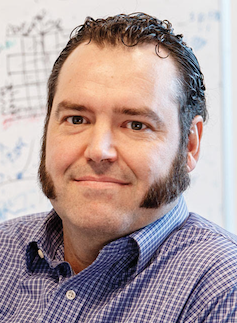 Currently an associate professor of Molecular and Medical Genetics at Oregon Health and Science University, Brian J. O'Roak is glad he made the decision to come to Fresno State.
It was that pivotal decision that set him on a path to success. At Fresno State, he found a mentor in Dr. Alejandro Calderón-Urrea and joined Dr. Calderón-Urrea's research group. This experience has been invaluable.
"I worked on a C. elegans project," he said. "To make a long story short, it didn't really work. But I learned even more about working in a lab, how to troubleshoot experiments, apply for grants, and present my work at conferences."
Brian was the Biology Department Outstanding Graduate (2003) and Distinguished Alumnus (2015). He has always enjoyed learning.
"I took honors science classes in high school and I think we really had excellent teachers," he said. "They got me excited about science, especially by freshman biology class where I first learned about genetics. We also applied science in fun ways where we did experiments and events like Science Olympiad."
He applied for college and was accepted to some University of California campuses and to the newly formed Smittcamp Family Honors College at Fresno State.
"No one knew how this honors program would really function or if it would be successful," he said. "I was the first one from my family attending college and I didn't have a lot of resources. So, I took a chance on this new program and moved into Holman Hall. It turned out to be a great decision."
He started off planning to double major in mechanical engineering and biology, pre-med, but soon focused on biology.
"After my first year, I started looking for research opportunities in biology, specifically genetics," he said. "I really like genetics. It's a closed problem. There is one genome, one set of instructions. Most of the research at that time was plant based."
His learning increased through advanced biology courses which were very hands on.
"In Developmental Biology, we learned about the creative experiments over the past 100 years," he said. "In Plant Genetics, we learned the power of genetic screens to identify key molecular mechanisms underlying development."
Brian still remembers reading in amazement during his junior year Molecular Biology a landmark paper describing the first working draft of the human genome and learning how genomes were built and assembled.
"It is still hard to believe 20 years later we can sequence a human genome in a single day in my lab," he said. "
Brian was fortunate to get a lot of support from Dr. Calderón-Urrea, Dr. James "Jim" Prince, and the McNair program. After much deliberation, he decided not to pursue an M.D. and to go to graduate school instead for a doctorate.
"I was the first in my family to get a B.S.," he said. "I had no clue what it would take to get into, let alone succeed in graduate school. I applied to about 10 programs on the West Coast. And, largely because Dr. Calderón-Urrea had gone there, I also applied to Yale."
He recalls that on Martin Luther King's Day 2003, he was training with the Fresno State College Bowl team in the dorms when he got a call from the vice chair of genetics at Yale, telling him that I had been accepted and inviting him for a visit.
"I couldn't believe what he had said," he said. "I hadn't even interviewed yet."
As a newlywed, he moved with his wife 3,000 miles away from all of their friends and family so he could study at Yale.
"That is where I shifted by research focus to human genetics and genomics," he said.
Arriving at Yale, Brian was pleasantly surprised to find that he was just as, if not more, prepared for graduate school as students from Berkeley or Harvard.
"I really have to credit this to the outstanding instructors and courses developed by the Fresno State Biology Department," he said. "While there are not as many research opportunities at a CSU, the faculty really put a lot of themselves into the projects going on and served as excellent mentors."
Brian stated that students are much more likely to be working directly with a professor on a project at Fresno State, rather than with a graduate student or postdoc as they do at certain other notable institutions.
Thinking about what you need to be successful as a scientist, in his current job Brian starts off his annual state of the lab address with these pieces of advice for his trainees:
Show self-initiative and think big.
Work hard, but don't burn yourselves out.
Your classes don't matter in the long run. What matters is that you learned to think about and critically evaluate the data and where you'd like to go next. There is no "class" on being a biologist.
Not everything works. If it did it would be called search, not research. Learn from your mistakes.
Take calculated risks. Don't be afraid to be the first. If it seems like everyone is doing the same thing over and over with the same results. Do something else.
None of us know really what we will be doing in five years. Find something that interests you that you can make an impact in. Figure out the first steps to make that happen and take action. Life and Science are full of unexpected twists and turns. I never thought I'd spend the last year sequencing viral genomes during a global pandemic.
Play nicely in the sandbox. Ask people to do things. Do not tell people to do things. Say thank you. You can't say thank you enough.
Look for mentors, they've done it before. Remember you didn't get here alone.
Brian's research group at Molecular and Medical Genetics focuses on developing and applying genomic technologies to better understand development and disease, with a particular emphasis on neurodevelopmental disorders, such as autism and cancer. In addition, since April 2020, he has co-led the Oregon SARS-CoV-2 Genome Sequencing Center at OHSU.