Alumni Feature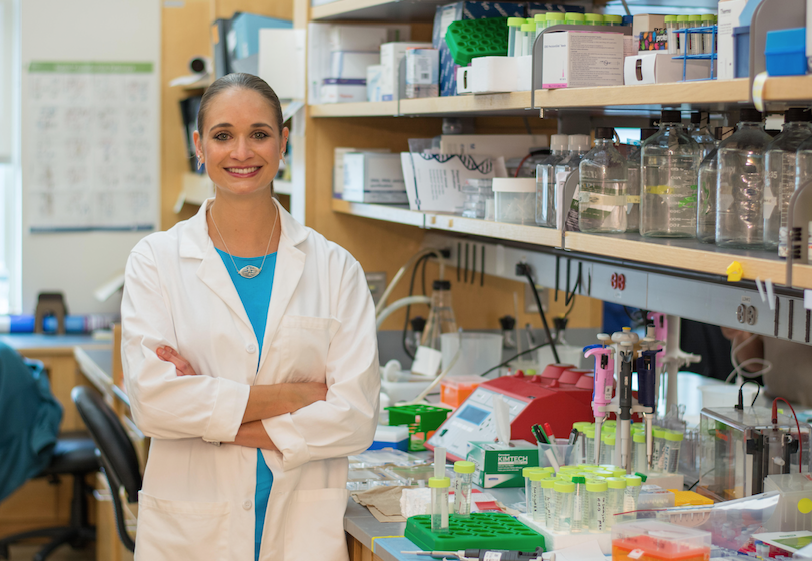 Alumna believed she could achieve because of her mentors in the Biology Department
Audra Iness remembers feeling sad when she graduated from Fresno State because she missed being able to stop into the Department of Biology office and ask questions.
"By the time I left Fresno State, I felt that I had made so many friends among the faculty and staff," she said. "I was treated as a colleague and that gave me the confidence and support to not only push myself to achieve more, but believe that I could do it."
The Fresno State Biology Department offered the comprehensive educational foundation Audra needed to become a successful scientist.
"I was also seeking the opportunity and resources to do substantial research as an undergraduate student, an uncommon finding among many large institutions," she said. "I also liked the size of the department—big enough to offer everything I need, but still provide personal mentoring that is critical for further development."
Audra just graduated from the M.D.-Ph.D. program at Virginia Commonwealth University. She will be starting her residency in Pediatrics in the Pediatrician Scientist Training and Development Program at Baylor College of Medicine/Texas Children's Hospital in Houston, Texas.
"My Ph.D. degree is in Clinical and Translational Sciences, Cancer and Molecular Medicine," she said. "My research is focused on deregulation of cell cycle control in ovarian cancer. In the future, I hope to apply this toward tissue regeneration in critically ill patients, since my clinical interest is in critical care medicine."
Attending Fresno State shaped her future, Audra said, because her faculty mentors in the Biology Department at Fresno State impacted her career choice.
"I am grateful for Dr. Alice Wright who gave me the exposure and experience necessary to discover my passion for research," she said. "I also received excellent mentoring from Dr. Calderón-Urrea, whose courses still remain at the center of my daily work."
Audra would advise students choosing a university to think about the advantages at Fresno State.
"Go to a place that will support you and your goals," she said. "I cannot emphasize this enough. Mentors are essential, and I found my amazing mentors at Fresno State."