College of Science and Mathematics
Campus Buildings


The Science building houses the upper division and graduate teaching & research facilities for the Departments of Biology and Chemistry.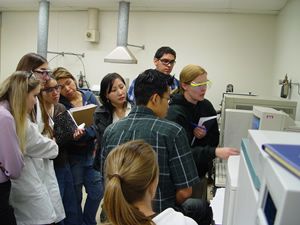 In addition to upper division teaching labs, this building houses the departmental offices for Chemistry and for Biology. Most faculty offices are in this building, as well as specialized research labs and graduate student offices & labs.
A few smaller classrooms are in this building in keeping with our philosophy of small class sizes and close student-faculty interaction.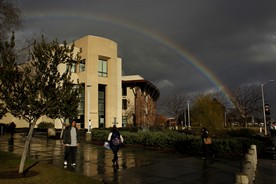 Completed in time for classes in the Fall of 2004, the Science II Building provides a host of classrooms, faculty offices, and teaching labs for the departments of Computer Science, Earth & Environmental Sciences, and Psychology. The Office of the Dean of Science and Mathematics is in this building.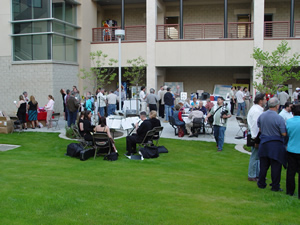 Its central courtyard provides an area for college events, such as the Alumni Reunion shown here.
The hallways contain special exhibit cases, and some of the walls have specially commissioned murals with science themes.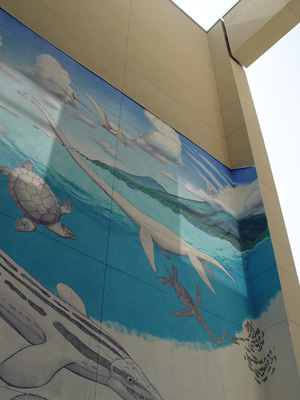 This picture taken in March of 2005 shows the partly completed mural of some of the prehistoric life forms found in the Central Valley of California.
There are plans for additional specially commissioned art works to provide instruction and beauty in this showcase building.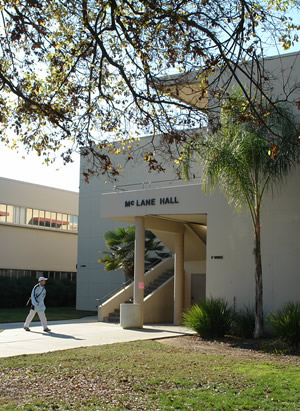 McLane Hall was one of the original buildings on the Fresno State campus. Its classrooms, offices and laboratories have been remodeled several times since then.
The lecture halls offer modern, electronically-enhanced teaching facilities for our larger lower-division lectures. The laboratories for general chemistry and biology are housed here, as well as the Department of Physics and the offices of the Smittcamp Family Honors College.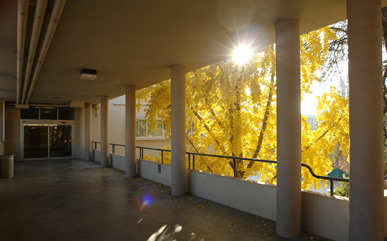 The Peters Business Building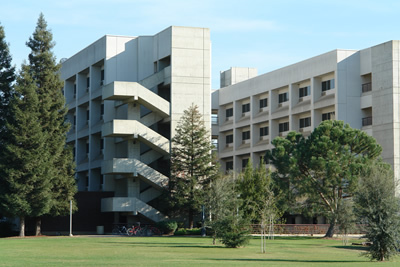 As the name implies, the Peters Business Building mostly houses the offices and classrooms of the Craig School of Business. Head up to the third floor, however, and you will find the Department of Mathematics in room 381. Offices of many of the faculty of mathematics will be nearby.