Department of Earth and Environmental Sciences
Earth Day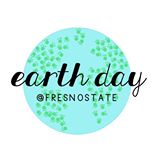 Fresno State Earth Week (April 1-4, 2014) will include film screenings, colloquia and discussions, a 'green bag lunch' seminar, and educational activities for local school children, culminating in a student-organized festival on Friday, April 4 on Maple Mall (11am-4pm), which will showcase local community and campus resources, all centered around the theme of sustainability and environmental stewardship. All events are free and open to the public. Earth Week activities are presented and facilitated by the Fresno State Sustainability Project and its Sustainability Ambassadors, along with other campus and community organizations. Check facebook for more information about dates and times of individual events and activities: www.facebook.com/fs.sustainabilityclub.
Contact project chair Criss Wilhite (
crissw@csufresno.edu
) for additional information.
Dates, Times, Locations of Activities and Events associated with Earth Week (click on this link for a poster of the following events)
Switch Energy Project Film Screening presented by Fresno State AAPG Student Chapter and the Department of Earth and Environmental Sciences. Switch explores the world's leading energy sites, from coal to solar, oil to biofuels, most of them highly restricted and never before seen on film.
Tuesday, April 1
6:30pm
Fresno State
McLane Hall Room 161
/r-ees/switchenergyproject.html
Sustainability Colloquium & Discussion Panel, featuring Fresno State Professors Drs. Madhu Katti and Dr. Mark Somma, and author and Grist's food & agriculture editor, Nathaniel Johnson.
Wednesday, April 2
7:00pm
Fresno State
University Business Center
Room 191
www.facebook.com/fs.sustainabilityclub/

Tatarian Symposium to focus on Journalism and Climate Change
The role of journalism in the debate surrounding climate change will be examined at the Roger Tatarian Journalism Symposium, 9 a.m. until noon on Thursday, April 3 on the Fresno State campus. The symposium will feature both journalists and scholars in discussing the role of the news media in sorting through conflicting scientific claims and informing the public on the need for political action to curb carbon emissions. The free, public event in the Satellite Student Union (2485 E. San Ramon Ave) is presented by the Fresno State's College of Arts and Humanities and the Department of Mass Communication and Journalism and co- sponsored by the Associated Students Inc. Readership Program. For more information, contact Marc Edge at 559.278.0127 or medge@csufresno.edu.
Green Bag Lunch
A casual lunch gathering to discuss sustainability and environmental stewardship, featuring the Fresno State Food Recovery Network.
Thursday, April 3
12:30pm
Fresno State
Location: Science II – Room 210
RSVP to Mara Brady (mebrady@csufresno.edu) to be included in the lunch count.
Living on One Dollar Film Screening
"Living on One Dollar" is a film and tool to help empower the extreme poor to take the first steps out of poverty. The film follows the story of four young friends who set out to live on just one dollar a day for eight weeks in rural Guatemala. More info on the film: http://livingonone.org/
Thursday, April 3
6:00pm
Fresno State
Peters Educational Center Auditorium
http://ceofresno.com/
Environmental Education Activities & Greenhouse Tour
Registration open to local 5-6th grade classrooms, snacks provided, up to $50 bus credit available
Friday, April 4
9am-11am
Fresno State
Downing Planetarium Courtyard
Contact: Jillian Millares (jillian3@mail.fresnostate.edu) to register your class
Earth Day @ Fresno State Festival
Enjoy live music, local food vendors, campus and community resources about sustainability and environmental stewardship.
Friday, April 4
11am-4pm
Fresno State
Maple Mall
CineCulture presents: Himalaya Song Multimedia Performance
Himalaya Song is a multimedia performance examining the Himalayas as they undergo major environmental and ecological change. Modern sounds combined with ancient instruments accompany visual imagery and storytelling that will take you on a journey through Himalayas past and present.
Friday, April 4
5pm
Fresno State
Peters Education Center Auditorium
http://cineculture.csufresno.edu/
contact: Joan Sharma (jksharma@csufresno.edu)