Aspiring Docs Website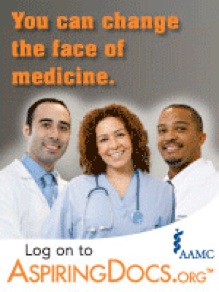 This newly developed, interactive web site has the goal of encouraging more diversity in medicine. However, anyone can use it. There are resources on the site to help you to understand career options in medicine, to prepare for the MCAT, and to apply to medical school. Student concerns about financing a medical school education are also included. The following is a message from the American Association of Medical Colleges (AAMC).

"A new Web resource, www.AspiringDocs.org, is the heart of this new campaign (to stimulate diversity within the career). Developed by the AAMC, the site is designed to encourage students to consider a career in medicine and connect them to comprehensive resources with easy-to-understand information about:
Career options in medicine
Preparing for the MCAT® examination
Applying to medical school
Navigating the admissions process
Financing a medical education
Important deadlines
To provide a dose of inspiration as well as information, the site also features compelling personal profiles of physicians and medical students who are pursuing their dreams in medicine after overcoming a variety of barriers on the road to medical school.
The Online Community
Students who register for the free site also have access to an online community of medical school experts and other aspiring doctors through two key features:
Ask the Experts gives students a unique opportunity to get information and advice about medical school from the AAMC, as well as from admissions and financial aid counselors, pre-health advisors, and other experts from around the country.
Hot Topics lets students meet online to share opinions and exchange information with other aspiring doctors on key subjects of interest.
Our message must be that students, with the right information and support, can:
Prepare themselves academically for medical school
Afford medical school
Successfully apply to medical school
Succeed in medical school
Enjoy a gratifying career as physicians and medical scientists
Make a major difference in people's lives and in their communities.
The great thing that this service is FREE to anyone. You don't need to pay some private company of individuals. The American Association of Medical Colleges, the people responsible to educate the next generation of doctors, provides this service to you at NO COST. Just register and join."
www.AspiringDocs.org