Science and Mathematics Education Center
Welcome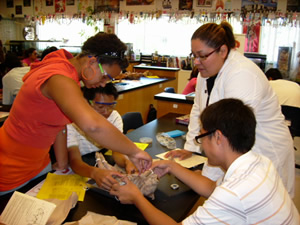 The STEM Education Center, formerly known as the Science and Mathematics Education Center (SMEC), is a collaborative group of faculty, graduate students, and undergraduates doing research, teaching, and service to support outcomes driven K-16+ STEM Literacy. This collaborative serves as an umbrella under which educational researchers from different departments work together: Biology (Walter, Hansen), Chemistry (Donnelly), Mathematics, and Liberal Studies (Shin, Nelson). We work together as a research group to advance our scholarship and knowledge of the field and enhance STEM Education in the Central Valley and beyond.
Our group supports the Central Valley Community, Fresno State and the California State University System, and the wider education community through:
Mission Point 1. Research and Grant Incubation
Faculty and students in the Center are engaged in multiple grant-funded research projects and grant incubation activities. Click here to learn more about our current projects.
Mission Point 2. Community Outreach / Engagement
Faculty and students in the Center are engaged in community outreach to advocate for STEM literacy and teacher professional development. This includes standing events like our Science Explorers' Workshop and on-demand STEM education events for local schools, troops, and community groups.
Mission Point 3. Outcomes Driven PK-16+ STEM Literacy
Faculty and students in the Center are engaged in activities to support outcomes driven STEM literacy (and therefore student success) for learners. This includes supporting students in our own STEM classrooms at Fresno State, and to design initiatives to support the development and continued best practice for PK-12 teachers and higher education professors.