College of Science and Mathematics
About the Comprehensive Campaign for Fresno State
The Comprehensive Campaign for Fresno State is the largest fundraising effort in the university's nearly 100-year history.
Supporting the overall academic excellence of the university, the campaign will raise new funds to further faculty research and build academic programs and facilities to provide greater learning opportunities for our students.
The efforts of the Comprehensive Campaign will focus on five themes:
Advancing World-Class Agriculture
Creating a Healthier Valley
Educating Our Children
Helping the Economy Grow
Celebrating the New California's Arts and Cultures
The themes were developed by identifying the areas in which Fresno State can best serve unique needs of the growing Central Valley.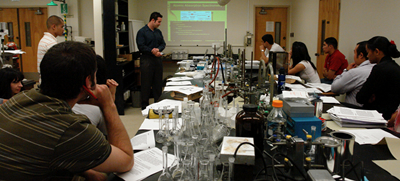 The Central Valley is burgeoning with new growth and embracing the challenges that accompany the rich cultural diversity. Our students, from all backgrounds, have found Fresno State to be a place of opportunity - a place where the greatest dreams can be achieved. At Fresno State we're helping people succeed and change the course of their lives. The Comprehensive Campaign will help to grow great futures for all our students.