Department of Earth and Environmental Sciences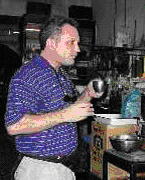 Steve Blumenshine
Ph.D., University of Notre Dame, 1997
Coorperating Faculty
Professor - Dept. of Biology
California State University-Fresno M/S SB73
Fresno , CA 93740

Phone: (559) 278-8770
FAX: (559) 278-3963
E-mail: sblumens@csufresno.edu
Office: Science I, 316
Links: EES Department, University Homepage
RISE Program Faculty Mentor (program description and research labs)
Teaching:

General Ecology (Biosc 130)
Aquatic Ecology (Ecol 152)
Biometry (Biol 274)(Graduate)
Case Studies in Ecology (Ecol 140)
Ichthyology (Zool 171)
Research:
My research interests straddle the interface of freshwater aquatic communities and ecosystems. Research funding is driven by the importance of understanding factors which may compromise surface water quality, aquatic communities, and the inequity of water demand versus supply. Within this focus is an emphasis on how human impacts such as hydrological manipulation, nutrient loading, and fish management affect the structure and function of food webs, and the consequences for ecosystem processes. I am particularly interested in how these perturbations affect food webs and the consequences for energy and nutrient flow through ecosystems.
Current Research Projects:
Patterns of [Se] in Kesterson Reservoir Water and Macroinvertebrates (w/ CA Water Institute and U.S. Bureau of Reclamation);
Variation in Waterbird Food Production Among Flooded Agricultural Fields (w/ USGS & MS Student Skip Moss);
Statistical and Simulation Modeling of Factors Affecting Juvenile Chinese Mitten Crab Mortality and Implications for Predicting Ecological and Economic Harm by Adults (Lead PI-Brian Tsukimura, CSUF & Deborah Rudnick);
Factors Affecting Spatial and Temporal Coherence in Algal and Macroinvertebrate Assemblages in the Mae Ping and Mae Kung Rivers (w/ C. Phalaraksh, Y. Peerapornpisal, and T. Kunpradid, Chiang Mai University , Thailand );
Relationships Among Food Web Structure and C & N storage and flux through Sierra Nevada Headwater Stream Ecosystems (w/ U.S.D.A. Forest Service & MS Student Nick Basile);
Relationships Among Water Quality and Reservoir Storage and Turnover (w/ CA Regional Water Qual. Control Board & MS Student Zak Hoover).
Recent Publications (*=student author):
Blumenshine , S.C. , and R.L. Johnson. Factors affecting Little Red River brown trout growth rates and potential benefits of forage base enhancement. In Review for Transactions of the American Fisheries Society .
*Carl, T., and S.C. Blumenshine. 2005. Relationships among Vernal Pool Invertebrates and Habitat Morphology. Bios 76(3):xx-xx.
*Hodgens, L.S., S.C. Blumenshine, and J.C. Bednarz. 2004. Trout predation by great blue herons in a tailwater fishery: a bioenergetics model application. North American Journal of Fisheries Management 24:63-75.
Blumenshine , S.C. , and K.D. Hambright. 2003. Top-down control in pelagic systems: a role for invertebrate predation. Hydrobiologia 491:347-356.
Hambright, K.D., S.C. Blumenshine, and J. Shapiro. 2002. Can filter feeding fishes improve water quality in lakes? Freshwater Biology 47: 1173-1182.
Frost, T.M., R.E. Ulanowicz , S.C. Blumenshine, T.F.H. Allen, F. Taub, and J.H. Rodgers, Jr. 2001. Scaling Issues in Experimental Ecology: Freshwater Ecosystems. In : Scaling Relations in Experimental Ecology , R.H. Gardner, W.M. Kemp, V. Kennedy, and J.E. Petersen (eds.). Columbia University Press, New York .
Blumenshine , S.C. , D.M. Lodge, and J.R. Hodgson. 2000. Gradient of fish predation alters body size distributions of lake benthos. Ecology 81:374-386.
Neubert, M., S. Blumenshine, D. Duplisia, T. Jonsson, and B. Rashleigh. 2000. Body size, food web structure, and the cascade model's equiprobability assumption. Oecologia 123:241-251.